For well over a year now, I have been setting monthly goals in order to increase income and improve at blogging.
There are, however, less measurable personal development categories that I've also been working to improve.
For example, I've been more cognizant of my tendency to go off topic with writing, which has led to more complete blog posts. And I've been concentrating on providing more valuable content as well.
In regards to the value proposition that's being offered through goal-setting, I write about side hustles that nearly anyone can accomplish. Furthermore, I am presenting an unobviously obvious opportunity to reach financial independence by breaking my own plan down into steps.
It would be easy for the layman to copy my easy-to-attain skills, and it would be even easier to copy my unimpressive savings rate.
Be that as it may, I can assure you that a clever long term plan is in place.
Ultimately, every goal set is based around a 3 to 5 year plan that I have been formulating.
Though I've been saving at least 21% of my net income per month, unfortunately, it's mathematically not enough to reach FI as soon as I would like to.
Sometimes my 10 to 15 year plan to reach financial independence doesn't seem so distant. But on more miserable days, I wonder how in the hell I'll ever make it.
Break Long Term Plans Down Into Steps
It's more motivating to reverse engineer your plans by breaking long term goals down into achievable steps!
That's why, over the next 3 to 5 years, I'm in a foundation building and blog development stage.
I still have 4 figures worth of a student loan debt that I'm paying off.
And there's a long way to go until the RTC dividend portfolio starts to spin off any significant income.
In addition, the next 3 to 5 years will form the course of my career, which will determine how much income I'll bring in.
And it could also determine the ultimate outcome of blogging — there is potential to generate income from blogging dependent on how much hard work is put in.
Keeping those 3 factors in mind, I estimate that progress made towards financial independence will accelerate substantially 3 years from now.
If there was such a thing as RTC shareholders, now would be a good time to load up on shares! The dividend income portfolio will begin to post large percentage income increases!
Furthermore, this blog will eventually become a go-to media outlet on dividends and FI, fingers crossed 🤞🏼.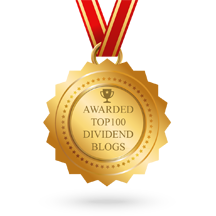 To be honest, it's already happening…
This blog was recently named a top 100 dividend blog on the planet by Feedspot, which I am extremely thankful to Feedspot for! It's amazing to be included on a list with so many outstanding dividend bloggers.
With that said, there was a slight set back in terms of page views compared to the success in August.
Unfortunately, I didn't reach every single goal set for September.
However, by setting goals each month, I am continuing to push myself to save and invest more.
Not to mention, I continue to improve and learn more about blogging.
Below is the accountability report for September. Second is the goals for October 2017:
Increase Income, Save Money and Blog Better #goalsetting
Click To Tweet
---
Accountability for September
Publish 6 blog posts
– Achieved.
Here are the 6 posts that were published in September 2017:
Increase page views – Failed.
Unfortunately, I was not able to surpass the page views set in August.
I had anticipated that blog traffic would automatically pick up after the summer came to an end. However, blog traffic dipped slightly in September.
I will elaborate and provide additional details on why the numbers were lower in an upcoming report.
Grow social media following on Twitter and Pinterest – Pass.
Even though I was pinning a lot less during the month, I was happy to see that Pinterest followers have continued to increase.
I had been previously utilizing a free trial from Tailwind to schedule and publish pins in August. But I wanted to compare a month of using Tailwind to a month of manual pinning.
The results of the comparison, which will also be included in an upcoming report, are fairly interesting.
Shortly after making the switch to manual pinning, approximately 8 followers quickly dropped off. I was concerned to say the least!
However, those numbers quickly rose back up, and manual pinning allowed me to pay attention to the quality of my pins. In addition, it provided an opportunity to organize my Pinterest boards.
As for Twitter, it continued its slow and steady climb.
Increase Income by $25  – Fail.
Regrettably, I failed to increase my annual dividend income by $25 during the course of September. However, I did still manage to increase income by $14.93, which is better than nothing.
Annual dividend income increased by adding to an already owned position 2 more times, and thanks to one dividend raise.
The reason for not reaching my goal is simply because I didn't save enough.
Save 21% of my net income – Fail.
I only saved 11.75% of my net income in September (SMH)!
Every once in a while, the timing of bill payments and other life expenses doesn't seem to align with my pay day. Since I only automate about half of my savings rate target, unfortunately, it prevents me from making the progress I'd like to.
With that said, it's always better to stay current on your bills and debts compared to digging yourself into a hole.
---
Goals for October 2017
Begin a new stock position 
Although there are still positions within my portfolio that I plan on adding more to, I also want to think like a business and expand my product lines.
Of course value and quality take precedence, but as a dividend investor, diversification is something that I just can't ignore.
In addition to having a more balanced dividend portfolio, I would also prefer to have more dividend payment dates.
Depending on which equity I end up building a position in, I will gain 4 to 12 more payment dates per year.
Save at least 15% of my net income
I have decided to alter the savings rate for October as a result of coming up short.
In addition, the fall tends to be a more expensive time of year for me.
There are birthdays and events coming up, and I am lowering the target in anticipation that I will spend more this month.
I'm not happy about the unimpressive savings rate, though…
Even though September, October, and November are more of a struggle, December is a month with 3 pay days.
Factor in the ambiance that the New Year brings on and I'm certain that December will be a blockbuster month for RTC.
Increase income by $15
Based on the $14.93 of annual dividend income that was added in September, I am setting the bar at a minimum of $15.
In short, I will only need to add one single share more than last month to surpass the mark set in September.
Publish 6 Blog posts
Surprisingly, this is the first blog post published since September 30th, which means I'm already behind.
To make matters worse, the dividend report for October won't be published until early November. Seeing that I only have 2 scheduled monthly posts (this one and the blog report), it's going to fairly difficult to publish 6.
On the other hand, I recently received an e-mail request regarding a previous segment I used to publish on this blog, Clever Articles from around the Web!
I had been considering the idea of bringing this segment back, since there are so many great blog posts I'd like to share.
That said, my consideration was validated thanks to the e-mail I received.
Additionally, I have been making an effort to view questions from readers and friends as opportunities for posts.
Stay tuned!
Update 5 Images & Create a Resource Page
In case you haven't noticed, I have been working on improving my blog images for share-ability on Pinterest.
Though I haven't come to an ultimate decision on a brand image, I am continuing to improve the overall look of RTC.
With that said, my goal is to fit a minimum of 5 archived posts with updated images.
In addition, I want to reestablish a resource page in order to make it easier to find things that I recommend.
 Reach 2,000 Twitter followers
Although I'm beginning to make progress with Pinterest, I can't forget about the social network that generates the majority of RTC blog traffic, Twitter.
Since it typically brings about 85 to 90% of my social media traffic, it's the network that I spend the most time on.
In order to grow Twitter followers, my strategy is simple:
Share more new content, which is why I'm aiming for 6 posts
Follow more like-minded bloggers
Like and Retweet relatable content (FI, Dividends, and Blogging)
Post consistently, using a mix of Hootesuite and manual tweets
Tweet positivity, engage with other bloggers, and add value
---
Concluding Thoughts
If I follow through on the more specifically selected plans set for October, I will increase income and be one step closer to FI.
Moreover, even when I don't reach the targets, I'm still ahead. And that's the main difference, buds -personal goals!
In turn, I have more money in the bank and earn a higher level of income, every single month.
Questions for the readers: What goals are you working towards? Do you find value in reading about goal-setting? What blogging side hustles and resources are you using to increase income? Do you attempt to increase income every month too?